Oriental Rug Cleaning North Wales

We clean all styles of Rugs - oriental rugs, Persian rugs, Chinese Rugs, Turkish Rugs, Moroccan Rugs, Navajo Rugs, custom rugs, handmade rugs, machine made rugs, shag rugs, natural dye rugs & more.
And all Material - Wool, Silk, Cotton, Linen, Viscose, Sisal, Karastan, Tapastry, synthetic rugs & more.
Rugs are very different to carpets; they are often made with wool, silk etc. This can sometimes lead to colour run problems, for these reasonswe always test them thoroughly first.
Leave your Rug Cleaning to the experts! We know everything there is to know about rugs and can clean, repair, and restore all kinds of rugs!
At Clean It we pride ourselves with a long and respected tradition in the field of rug cleaning & repair and our experts are knowledgeable in the ways of area rug cleaning. Our expertly trained technicians begin the cleaning process by identifying fibers and dyestuff so that they are sure that the cleaning method applied is the very best for your product.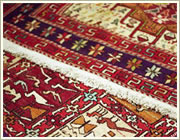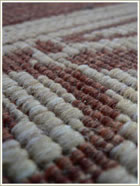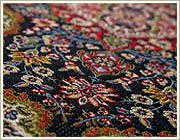 All Rug Types All Origins.
Like all beautiful things, rugs eventually perish. However, with the best available care and attention to cleaning and preserving, you can make sure your rug remains in its optimum state for as long as possible. As with all things of value, certain precautions must be taken when caring for oriental rugs.

Whether you have a fine handwoven, antique Persian or a funky bright, contemporary shag, you want your work of art to be cleaned or repaired thoughtfully and carefully. Natural fibers such as wool and cotton require different care from nylon or polyblends.
Natural Fibers
Natural Fibers are produced either by insects, animals or plants. The fibers that are produced by insects or animals are referred to as protein fibers. Those that are produced by plants are referred to as vegetable or cellulosic fibers. Cellulosic and protein fibers share a common disadvantage, they are both very absorbent and will have extended drying times when wen cleaned. This can lead to shrinkage, mildew and dry rot.
Protein Fibers
These are produced by insects or animals and include wool, silk and hair. Our experts will determine the appropriate cleaning process for your rug based on its individual characteristics, such as its origin, type, material & dyes.
| Rug type | Steam Cleaning | Submersion Handwash | Dry Cleaning |
| --- | --- | --- | --- |
| Nylon/synthetic/polypropylene | * | * | |
| Woolen | * | * | |
| Oriental | | * | |
| Shag Pile & Flokati | | * | |
| Sisal | | | * |
Here is a look at our cleaning process:
Pre-Inspection - We examine each rug, looking for signs of fading, discoloration, stains, pre-existing damage, color instability and odors. We then select the suitable cleaning process.
Dusting - We remove dust and small particles lying deep within the rug, using compressed air. This step is often referred to as "air washing" or "dusting", and is far more effective than vacuuming or beating.
Pre-Treatment - Spots and stains are pre-treated using advanced spotting techniques.
Pre spray - Contentrating on sites of heavy traffic and soiling. Note: discoloration caused by wear, fading, or chemical reaction is not reversible.
Dissolving and extracting ground-in soil.
Rinsing in order to remove deeper soil and cleaning residue, and restore natural textures.
Hot water extraction
Restorative grooming with special grooming tools. Note: fiber wear or distortion is irreversible.
Bonnet pad dry cleaning
Final Inspection - We will conduct a thorough inspection of your rug. If needed, we will repeat any of the above steps until your rug is as clean and beautiful looking as possible.
Repairs & Restoration - Available with a quote for each individual rug.
Normal spot and stain removal is included in our cleaning price and our steam cleaning process.
Rug Cleaning & Care Tips
The best way to keep a rug clean is to keep it from getting dirty in the first place. (as people do in most rug-weaving countries) is a good idea if this accords with your lifestyle. Bare-foot or sock-foot traffic is much gentler to a rug than a hard outdoor-shoe sole (or spike heel), and leaving your outdoor shoes at the entrance to the house tracks in much less dirt.
A Rug can be a purchase for a lifetime and for generations if cared for properly. Although you do need to get your rugs professionally washed and cleaned from time to time, you can always take extra care of your rugs by following simple, basic tips on cleaning and protecting your rug:
Rotate your rug periodically for even wear.
Vacuum on a regular basis. Be careful of fringe and the height of the beater bar. Consider not using the beater bar.
Use a quality underlayer, pad or cushion to allow for cleaning and prevent slippage.
Have your rug cleaned only when it really needs cleaning.
Remove outdoor shoes when entering the house.
Remember that regular vacuuming is necessary to keep your rugs in perfect conditions. Soil particle removal is essential as the sharp edges of dust particles have a very abrasive affect on the rug fibers.

To book your cleaning appointment or to obtain a free quote, please Call 0800 781 0873 or use the online enquiry form at the top of the page.